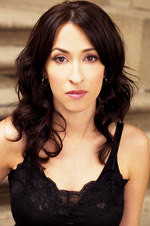 Betrunner is Actor/Writer/Producer Gabrielle Conforti's first film.
Gabrielle Conforti has worked as actress in the film industry for more than a decade.
She has had the opportunity to work with many top talents, including Jeff Goldblum, Ben Stiller, Steve Shainberg, Tom Waits, and Matthew Harrison.
Through her work with the Sundance film festival and her membership in Filmmakers Alliance Gabrielle has endured the rigors that face all filmmakers to produce and star in her debut short film "Betrunner". Her film is based on personal experience and was an early selection of the Palm Springs Short Film Festival where she was featured in a Backstage West article chronicling the process of bringing this unique tale to the screen.
Gabrielle is currently in development on her latest project: CANDI a feature film about the pharmaceutical industry.
Gabrielle has studied acting at Playhouse West and currently continues to train and perform at The Downtown Playhouse.
She resides in New York and Los Angeles.